THE SOUTHERN SCHOLAR DIFFERENCE
We make the best dress socks in the world.
In 2014 we set out to re-engineer the dress sock with a focus on quality, fit, and comfort. Today, that is exactly what we have achieved. From the unique fibers that compose our socks to the 200 Needle Count Knitting process we perform, we invite you toexperience the difference.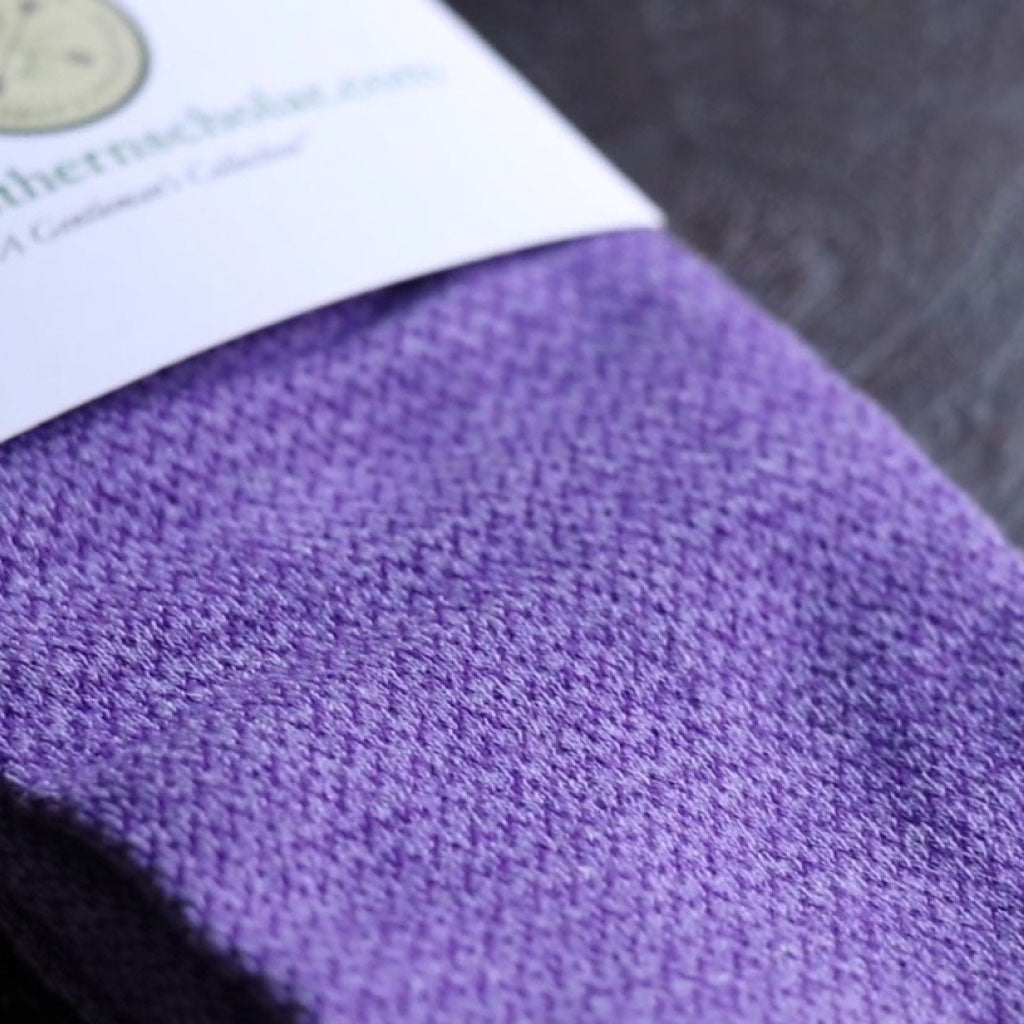 QUALITY IN EVERY THREAD
We firmly believe that you shouldn't have to settle — in quality or style — when selecting your dress socks. At Southern Scholar, we work exclusively with expertly skilled manufacturing partners, source only the best materials, and meticulously design each and every pair of socks in-house here in Dallas, TX.
THE FOUNDATION
We have dedicated the past 8+ years to crafting the perfect blend of materials to deliver to you a truly superior sock.
Utilizing the 200 Needle Count Knitting process, paired with our Signature Material Blend, we're able to present a one-of-a-kind sock built specifically to stay in place throughout your workday, while adding a subtle touch of sophistication to your look.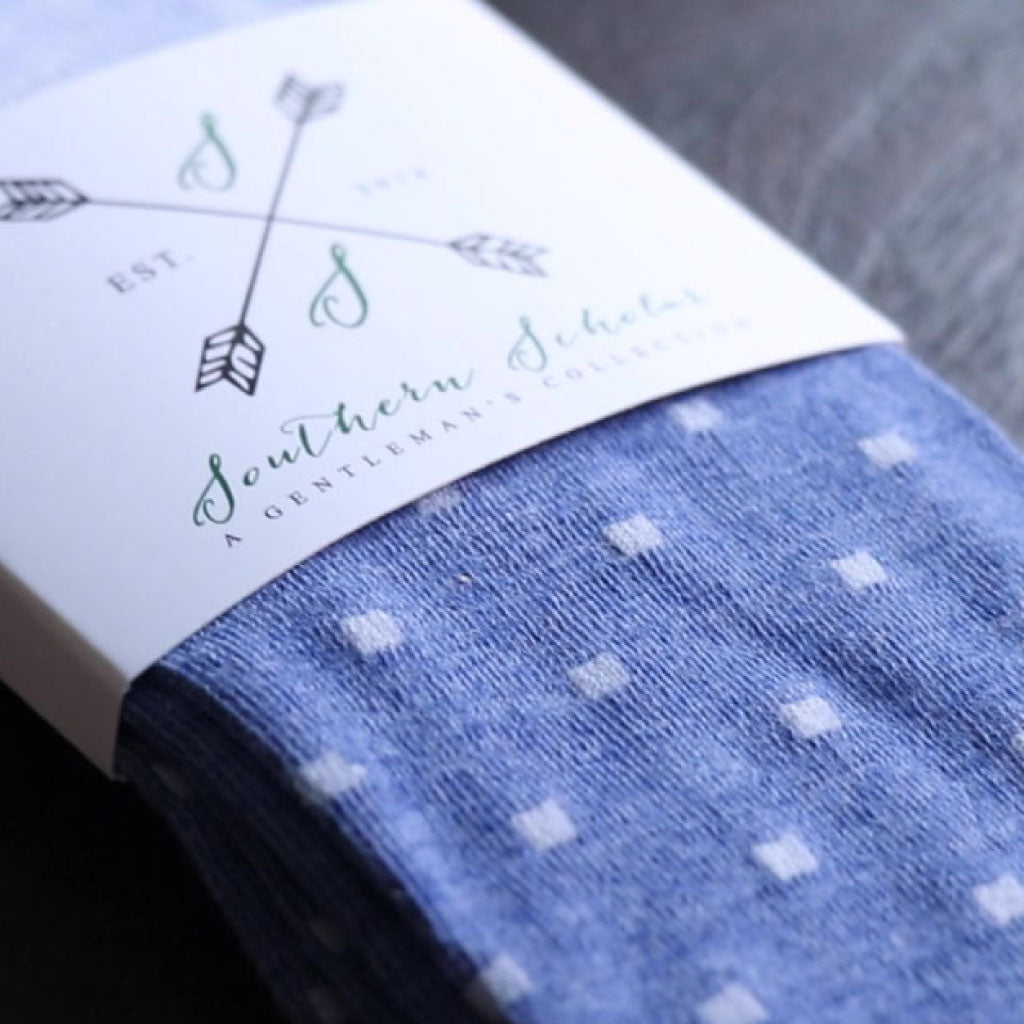 OUR SIGNATURE MATERIAL BLEND
We begin by blending the finest 32s/1 Polyester threads with Viscose Rayon fibers to provide an unparalleled level of comfort and durability.
We then add Nylon and Spandex throughout the entire sock to provide a uniform stretch throughout and a guaranteed perfect fit. The combination of these threads provides a silk-like finish that doesn't fade after being washed or worn.
SO, WHY AREN'T OUR COMPETITORS USING THESE MATERIALS?
It's simple; cotton is cheap and easy to source. At Southern Scholar, we walk the road less traveled and don't include any cotton in our socks.
Instead, every thread that composes our socks is strategically sourced, custom dyed, and knit with care to our unique design specifications which we develop in-house.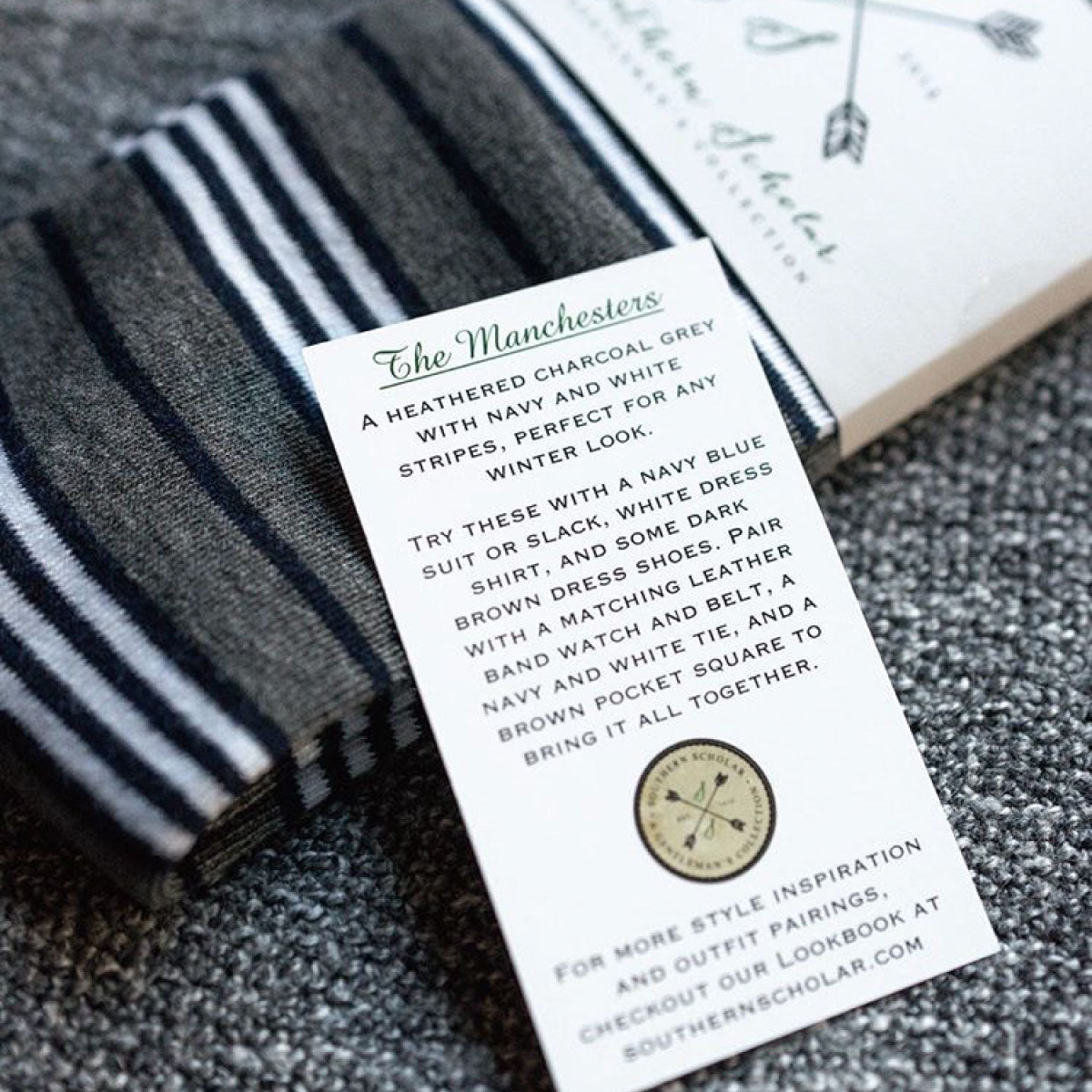 WE GO THE EXTRA MILE.
Our focus is on sculpting a movement around elegance — taking honor in the opportunity to help each and every member create the look they desire. We exist to provide an indulgence that is well worth the investment while adding ease to the process with our Signature Style Cards.
We want you coming back for more of our quality, exceptional customer service, and original designs - not replacing your socks every few wears because they aren't holding up.
Our Sock Features
+ One-of-a-Kind Signature Material Blend
+ 200 Needle Count Knitting Construction
+ Incredibly Soft, Comfortable & Durable
+ Custom-Built Ribbed Cuff
+ Reinforced Toe & Heel
+ Antimicrobial, Moisture Wicking & Breathable

*55% polyester, 23% viscose
17% nylon, 5% spandex
WHY THEY FIT
Our socks are engineered to form-fit to your foot and leg and stay up all day. They truly are unlike anything else on the market. Below you can see how our Mid-Calff (left) and Over-The-Calf (right) fit on gentlemen sizes 7-14 (from left to right).
Simply place the heel of heel of the sock on the heel of your foot, and pull the leg of the sock to your desired length. The fibers in our blend will naturally compress and hold their place without constricting or leaving excess loose fabric.
STILL NOT CONVINCED?
TRY A PAIR TODAY AND IF THEY AREN'T THE BEST DRESS SOCKS YOU'VE EVER WORN, THEY'RE ON US.